Day trip to Panchao liquid nitrogen tank factory
Editor:Thompson
Click:
Time:2019-12-07 13:51
As a professional

liquid nitrogen container manufacturer

, our company's overseas department is located in the urban area, and the factory area is in the suburbs. Usually our foreign trade staff usually don't go to the factory. Today, I went to the factory area with two company colleagues to deal with some things. Let me talk about the feeling of a day trip in the factory area.
The factory is about 15 kilometers away from our downtown company, and it took 40 minutes to drive to the factory. This is a large industrial park built by the local government to develop the physical industry and encourage entrepreneurship, and our factory is located in this industrial park.
Enter the factory area, directly in front of the production workshop and office buildings, on both sides are warehouses and parking lots. Workers are busy working, different areas represent different types of work, welding, shaping, stamping, vacuuming, and other production processes are carried out in an orderly manner.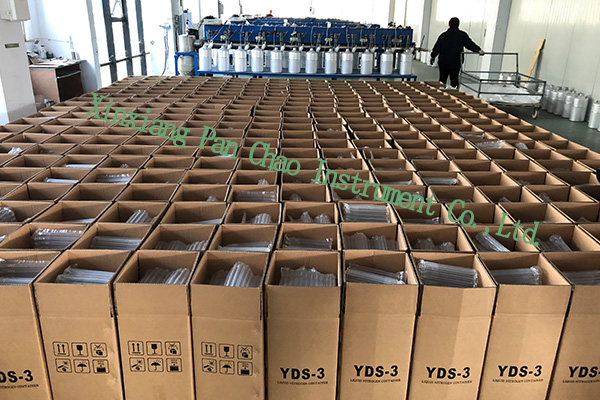 When they came to the warehouse, several workers packed the goods for Africa in a rush, chatting with a worker, all of them were nearby villagers. They used to work in the south of China. Now the industrial system in my hometown is gradually improving, and the wage level has also improved a lot. It is almost the same as going to work in other places. They can still keep my wife and children when they work in hometown. He smiled contentedly. In recent years, the economic development of the central and western regions, the renewal and iteration of the industrial model, and various favorable policies of the local government have really changed the work and life of ordinary people.
After spending a long time in the urban area, I took in the exhaust of the car every day and came to the suburbs to feel the air is extremely fresh. Because the neighborhood is rural, I can smell the soil and cow dung on the road. The occasional return to the pastoral life can indeed Makes people happy.
If you are interested in factory price storage semen

liquid nitrogen tank

, high quality liquid nitrogen container for storage nitrogen, xinxiang liquid nitrogen tanks manufacturer, please contact me.
Phone / WhatsApp: +86 15537364271
Email: thompson@pchaoinstrument.com
Website:www.n2tank.com