What are the details of using liquid nitrogen containers?
Editor:Thompson
Click:
Time:2019-12-10 15:34
We usually need to be as careful as possible when using

liquid nitrogen tanks

, so what are the details to pay attention to?
1. Before filling the liquid nitrogen tank, first check whether the shell is recessed and whether the vacuum exhaust port is intact; if it is damaged, the vacuum degree will be reduced. Frosting, large loss of liquid nitrogen, will lose the value of continued use; even when filling liquid nitrogen, liquid nitrogen can not be poured into the vacuum exhaust port, so as not to cause a decrease in vacuum.
2. The liquid nitrogen tank is placed in a cool and ventilated place, and should not be exposed to the sun.
3. Liquid nitrogen tanks filled with liquid nitrogen. It is strictly forbidden that the liquid nitrogen tanks are tilted, placed horizontally, inverted, piled up, hit each other, or collide with other objects. Always keep the tank upright.
4. For long-term storage, it is necessary to replenish liquid nitrogen regularly. When replenishing, it is generally advisable that the remaining amount of liquid nitrogen is one-third of the total capacity.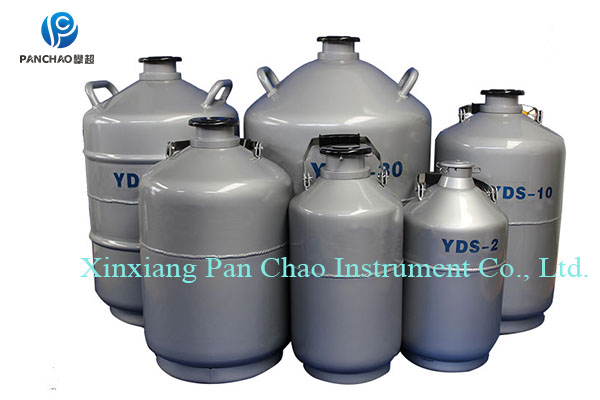 5. When putting in or taking out frozen items, try to keep the opening of the tank as short as possible to reduce the consumption of liquid nitrogen, and do not completely lift out the lifting cylinder.
6. It is strictly forbidden to place objects and seal necks on container lids.
7. It is strictly forbidden to clear the frost in the neck tube with hard objects, so as not to damage the neck tube.
8. The liquid nitrogen tank is only used to contain liquid nitrogen, and other liquids or mixed storage is not allowed.
This is the knowledge sharing today.If you are interested in

liquid nitrogen biological container supplier

, storage type liquid nitrogen container, semen container tanks with lower price and top quality, please contact me.
Phone / WhatsApp: +86 15537364271
Email: thompson@pchaoinstrument.com
Website:www.n2tank.com